The Expedition Vehicles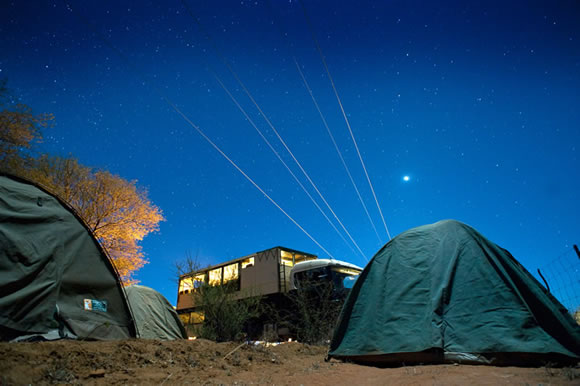 Our safari trucks are designed and built for overlanding. We operate all our own vehicles from our safari workshop. Here our trucks are serviced and maintained, enabling us to provide you with safe reliable transport. Most of our trucks are late model Mercedes Benz or Scania' s with Euro 4, fuel efficient and enviro-friendly motors with safety features such as ABS anti-lock braking and air-ride suspension for a much smoother ride.
In trips with certain numbers to Tanzanian gameparks we use; Landrover 4x4 and vans.
The tour trucks are fitted with comfortable inward and forward facing coach seats. A wide aisle gives you loads of leg room and lots of space to move around in, this makes the back of the truck a great place to socialise.
Our vehicle design has evolved over the years to provide the most practical and comfortable vehicles for our travels.
Our Safari trucks are equipped with:
Tarpaulin sides with clear windows providing all round viewing. Rolled up most of the time on safari they can be tied down in cold or wet weather.
Most of the safari trucks have an additional elevated viewing platform at the front of the truck; this offers great views and excellent photographic opportunities for game viewing of wild animals.
There are lockers for your backpack, accessible from inside our safari truck; a communal safe for your valuables; and a medical kit for emergency use.
Interior lighting for reading plus exterior lights for cooking on safari.
Amplifiers and attachments for personal CD players so you can listen to your own music.
There is ample storage for food enabling us to buy bulk along the way.
We carry over 200 litres of water.
Extra fuel tanks, for those long runs and fuel shortages.
Cooking equipment and eating utensils.
Roomy, easy to erect tents.
We sit on camp stools on tours and throw mats to relax on
Cooler boxes keep the drinks chilled.
Fire grills are used for BBQ's with gas as a backup.
Camp tables for preparing meals on; under an all weather awning in case it rains.