Book Now

Print this Page
Windhoek to Victoria Falls - FT - Itinerary
We start the trip in Windhoek, a small capital city with many places of historical interest. Spend the afternoon there and visit a local museum or haggling at the street side markets, or take a meal out at a beer house, German style.
DAY 1: Windhoek, Namibia to Ghanzi, Botswana (B/L/D)
From Windhoek to Botswana and Ghanzi. Here you can go with the San Bushmen to learn about their life and how they live in this harsh land.
Optional Activity: Bushman Experience
DAY 2: Ghanzi to Maun (B/L/D)
Through the Kalahari Desert to Maun a small town on the edge of the Okavango Delta, the starting point for a Mokoro trip into the Delta.
DAY 3-4: Maun to Okavango Delta (B/L/D)
A Mokoro is a traditional dugout canoe and your transport into the Delta. As you glide through the waterways, you will see a fantastic array of wetland wildlife, birds in particular, and you will come across hippos in the water and elephants drinking on the shore. You can go on a walking safari to look for giraffe, buffalo and rare antelope – the overnight stay is a great wilderness experience.

Up early and it's off walking with the guide, a unique chance to see game on foot; elephants, herds of grazing zebra and pods of hippos. Try learning how to pole your mokoro, or try to catch a catfish, which the guides make it look so easy. A last swim in the clear delta water before heading back to the truck and campsite for a shower and cold drinks. Time permitting you can take a scenic flight over the Delta from Mau.
Included Activity: Overnight Delta excursion
DAY 5: Maun to Nata (B/L/D)
We head to Elephant Sands. The drive will take you through sparsely unpopulated country, where the donkeys roam freely. Once we have arrived at our campsite you will have the option of a game drive or a bushwalk.
Optional Activity: Game Drive, Bush Walk
DAY 6: Nata to Kasane (B/L/D)
After an early start and a stunning drive to the town of Kasane where we set up camp on the banks of the Chobe River, where elephant and hippo can be seen from the campsite.
DAY 7: Chobe National Park (B/L/D)
In Chobe National Park you can take an overnight game drive; a wild experience - excellent game viewing is a must.
Included Activity: Chobe National Park overnight game trip
DAY 8: Chobe to Victoria Falls, Zimbabwe (B)
After returning to camp we head to Zimbabwe and over the border to Victoria Falls. When the river is in full flow, the falling water causes a huge roar and sends a cloud of spray up to 500 metres into the air.
Included Activity: Entrance to Victoria Falls

DAYS 9: Victoria Falls (B)
We stay beside Victoria Falls in Victoria Falls town, there is a lot to see and do. Adventure activities abound - you can bungee jump, white water raft, and go game-viewing on horseback or walking with lions. More sedate excursions include canoeing, light aircraft or helicopter flights over the Falls and the sunset cruise on the Zambezi. Though the Falls themselves are the main attraction, you can walk in the rainforest along the cliff opposite for an excellent view.
Optional Activities - Bungee jump from the Victoria Falls Bridge, abseil down the Gorge. Fly over the Falls. Whitewater raft down the Zambezi. You can float serenely down the river deep below the cliff topped gorge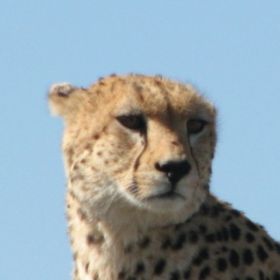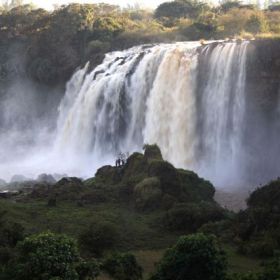 Book Now

Print this Page