Book Now

Print this Page
Victoria Falls to Zanzibar - FT - Itinerary
DAYS 1: Victoria Falls (no meals)
Victoria Falls. When the river is in full flow, the falling water causes a huge roar and sends a cloud of spray up to 500 metres into the air. We stay beside Victoria Falls in Victoria Falls town, there is a lot to see and do. Adventure activities abound - you can bungee jump, white water raft, and go game-viewing on horseback or walking with lions. More sedate excursions include canoeing, light aircraft or helicopter flights over the Falls and the sunset cruise on the Zambezi. Though the Falls themselves are the main attraction, you can walk in the rainforest along the cliff opposite for an excellent view.
Included Activity: Entrance to Victoria Falls Optional Activities - Bungee jump from the Victoria Falls Bridge, abseil down the Gorge. Fly over the Falls. Whitewater raft down the Zambezi. You can float serenely down the river deep below the cliff topped gorge
DAY 2: Victoria Falls to Chobe National Park, Botswana (B/L/D)
Westwards, leaving Zimbabwe to Botswana to Kasane and Chobe National Park. In Chobe National Park you can take an overnight game drive; a wild experience - excellent game viewing.
Included Activity: Chobe National Park overnight game trip
DAY 3: Chobe, Botswana to Livingstone, Zambia (B/D)
We cross the Zambezi River by ferry into Zambia to Livingstone where we arrive at Victoria Falls
Optional Activity: Sunset Boat Cruise
DAY 4: Livingstone to Lusaka (B/L/D)
We head north through sugar plantations to the capital Lusaka.
DAY 5-6: Lusaka to South Luangwa National Park (B/L/D)
Along the Great East Road to Chipata, a full day's drive and South Luangwa National Park on the Luangwa River is well worth the visit. Recent trips have seen:- elephants, giraffe, wild dogs, leopards, lions, and buffalo. We camp just beside the park and we game drive into the park.
Included Activity: South Luangwa National Park
DAYS 7-9: Chipata to Lake Malawi Beaches, Malawi (B/L/D)
We cross into Malawi with a stunning drive to Lake Malawi, past the lake shore to Kande Beach Resort. Kande Beach Resort A full day on the beach to do as little or as much as you want. Loads of things to do - scuba diving, horse riding, canoeing, sailing, snorkelling. A short drive up the lakeshore to Chitimba Beach, on the base of Livingstonia Escarpment.
At night, you'll see the lights of the fishermen out on the lake. The various beachside campsites along Lake Malawi's shores offer many optional Excursions including a variety of water sports, horseback rides and a visit to the local village and school
DAY 10: Lake Malawi to Iringa, Tanzania (B/L/D)
An early start to get to the border with Tanzania and head up to Iringa and the Farmhouse Campsite.
DAY 11: Iringa to the Indian Ocean Coast and Dar es Salaam (B/L/D)
The highway takes us through Mikumi National Park, famous for its pygmy elephants, and buffalo beside the main road. The day ends at either Mikumi or Dar es Salaam on a beach with the Indian Ocean lapping the shore.
DAY 12: Dar es Salaam to Ferry to Zanzibar (B)
From Dar es Salaam we take the ferry to Zanzibar and the old stone capital of the Omani Sultanate. Sandy beaches, spice tours, snorkelling, diving and trips to other nearby islands. Zanzibar is a fascinating place to visit and to take it all in. Over a thousand years trade between Africa and Arabia has resulted in the blending of Arabs and Africans into a beautiful Swahili coastal culture with; wooden sailing dhows crossing the ocean, coconut plantations and fishing villages with mosques on the beaches. Nungwe beach resort on the north of the island has the most beautiful beaches.
Included Activity: Zanzibar Excursion, Spice Tour & sailing on a Dhow
DAYS 13-14: Zanzibar (No Meals)
You get your own meals while in Zanzibar, as people like to experience here on their own or in small groups and within their own budget. Our tour leader joins you and will arrange your activities, while meals can be taken from a wide choice of restaurants to suit any budget. There are also many optional excursions.
Stone Town in Zanzibar Town is a UNESCO World Heritage Site, the old slave market, the spice growing areas, Jozani Forest with Red Colobus Monkeys and in the evening the seafood cafes on the wharf side.
DAY 15: Zanzibar by ferry to Dar es Salaam (No Meals)
Return by ferry to Dar es Salaam on the mainland for another on our beach campsite; late afternoon, or early evening.
Included Activity: Zanzibar ferry to Dar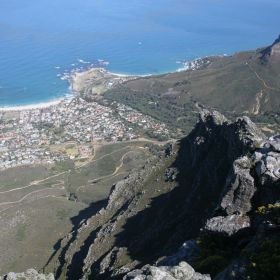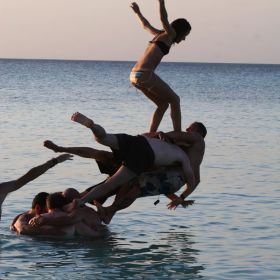 Book Now

Print this Page